BOOTS ON THE GROUND
Become A Precinct Committeeman Today!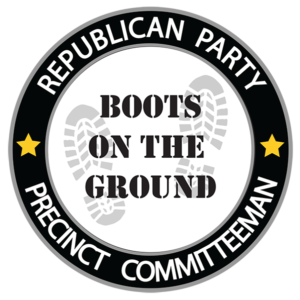 Mohave County Republican 2024 Campaign
Become a Precinct Committeeman (P.C.) today, help us WIN the 2024 election!
As a PC you might find yourself helping on the phones, knocking on doors or pollwatching.

Our goal, to save our country, needs YOU to succeed.

The Republican Party cannot win elections without your help.

Help spread the conservative message and join us for the win!

We need more boots on the ground! Unite with us today.
FREEDOM IS NOT FREE
Join the thousands of Mohavians fighting every day to keep our county and country free.
Become a Candidate
The Republican Party of Mohave County Is Committed To Preserving The County's Republican Representation. We Stand With Our Candidates and Elected Officials.
Running for elected office takes a considerable amount of time, money, and effort. It is not suited for everyone.
If you are a strong leader, are prepared to do what is necessary to run a serious campaign, and will faithfully represent the Republican Party Platform once in office, the Mohave County Republican Party is here to support you.
Below are instructions and documents necessary for Republican candidates seeking support from the Republican Party of Mohave County.
All candidates must fill out and return this questionnaire to be considered for an endorsement.
(NOTE: Appearance at at least one MCRCC meeting is a prerequisite for endorsement. Continued attendance at meetings will also be a factor for consideration.)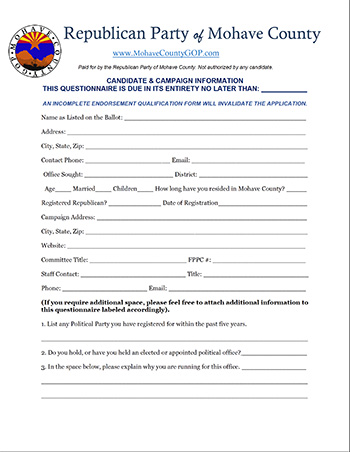 Contact Us Today!